After selecting the products you choose in your basket, you can complete your order by choosing one of the following methods of Secure payment.
Cash on Delivery ( Extra Charge €5 )
Local Pickup (Pay at the Store)
Paypal
Transfer in a bank account Alpha Bank GR8301403460346002002013942
Payment by Credit Card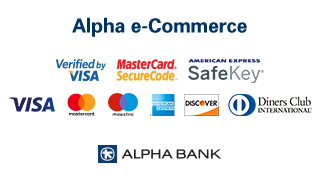 All payments made using the card are processed through the electronic payment platform of "Alpha e-Commerce" of Alpha Bank and uses TLS 1.2 encryption protocol encryption with 128-bit (Secure Sockets Layer – SSL). Encryption is a way of coding the information until it reaches its recipient, who will be able to decode it using the appropriate key.