After selecting the products you choose in your basket, you can complete your order by choosing one of the following methods of Secure payment.
Cash on Delivery ( Extra Charge €5 )
Local Pickup (Pay at the Store by appointment)
PAYPAL
Transfer in a bank account

Alpha Bank GR8301403460346002002013942 (Bank charges are charged to the buyer)
Eurobank GR3302606590000670201170791 (Bank charges are charged to the buyer)
National Bank of Greece GR3701101530000015300879473 (Bank charges are charged to the buyer)
Make your payment directly into our bank account. Please use your Order ID as the payment reference. Your order will not be shipped until the funds have cleared in our account. Send us the receipt of the transaction via email to [email protected] Your order will remain active for 5 working days.
Payment by Credit / Debit Card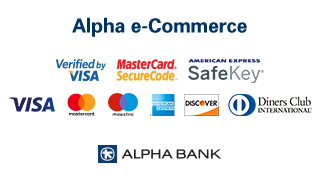 All payments made using the card are processed through the electronic payment platform of "Alpha e-Commerce" of Alpha Bank and uses TLS 1.2 encryption protocol encryption with 128-bit (Secure Sockets Layer – SSL). Encryption is a way of coding the information until it reaches its recipient, who will be able to decode it using the appropriate key.